Hope for Today Outreach (HTO) is a faith-based and non-profit organization that exists to empower underrepresented families, the poor, and the needy by meeting their material and spiritual needs. We primarily serve families in the impoverished area of Port-Margot, Haiti to contribute to the Region's sustaining development and growth, and human flourishing.
We are raising financial support to start a Pre-School/Kindergarden in Port-Margot, Haiti, beginning this academic school year, 2019-2020.
Our  school will be the first Pre-School (Elementary school) in Bradeau, Port-Margot. We will begin the school with 25 children, as a fully funded program. The fund that we are raising will provide for the following needs:
1.  To provide backpacks and school supplies for 25 children, aging 4-6
2. To help finance their education for the academic school year 2019-2020
3. To provide one hot meal (Lunch) for the 5 school days.
4. To help pay the salary for the Kindergarten teacher and the Assistant Teacher.
5. To renovate two bathrooms and provide educational and teaching resources for the classroom.
About Bradeau, Port-Margot
Bradeau is a rural area located in the city of Port-Margot, northern Region of Haiti.  The people of Bradeau are mostly farmers and street vendors . The village of Bradeau is one of the most impoverished areas in the Region and Haiti.  There are  more than 150 homes and more than 200 children, aging between 3-9, in this community and its surrounding. There are many existential factors that affect the health and living conditions of the poor of Bradeau : (1) It is an illiterate community; (2)  no existing schools (no elementary, middle, or high school)  in the region; (3) no running, clean, or sanitized water (or water wells) there (the people are solely dependent on rainwater to nourish their animals, crops, and they use the same water for cooking, drinking, shower, etc.) and ; (4) no existing medical clinic in this rural area.  The beautiful city of Port Margot is often frequented by drought resulting in heightening the Region's infrastructures, hunger, poverty,  and poor health crisis.
Below, we share with you some photos of the community and the recent medical clinic we did in Bradeau in July 2018.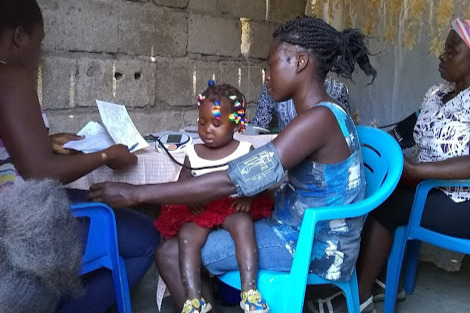 You will have an opportunity to contribute to this cause by clicking on the link:
Thanks for your kindness and generosity!
Celucien L. Joseph, President
Hope for Today Outreach